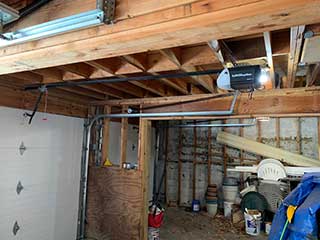 The sky has turned quasi-black, while the fat, water-swollen thunderclouds are ready to burst. Soon the lightning will electrify the atmosphere and light up the entire area. But the sudden storm doesn't make you worried. You just drive down the road knowing that your garage opener remote is ready at your side, while your neighbors run to avoid getting soaked. However, when you finally make it home, you realize that the remote doesn't work. It's either that or there is something wrong with the garage door opener. In either case, one thing is certain. You've been slacking on maintenance, haven't you?
Prevent All Sorts Of Problems
The best way to avoid scenarios like the one mentioned above is to make sure your garage door and its different parts are maintained on a regular basis. While not every single problem can be prevented, the majority can. By making sure the opener, remote, springs, and other important components are in functional shape every so often, you'll be able to detect issues before they develop, which will give you a chance to address the potential problems and effectively nip them in the bud.
Maintain Your Safety
Regular garage door maintenance won't just help you avoid annoying issues and inconveniences, it will also help you make sure the system is safe to use. A lot of problems this mechanism can be inflicted by aren't just causes of headaches, they are also causes of concern, as they can result in serious injuries. The springs need to be adjusted and lubricated to make sure they're not overstraining. When these components break, they can whip around suddenly, and if anyone is standing nearby, they could get seriously hurt. If your opener's safety features aren't working correctly, then using this device also poses a threat to your personal safety, as the door may not reverse when something accidentally gets in its way.
Protect Your Belongings
Proper maintenance will also help you to ensure that your door remains insulating and continues to offer you stored belongings protection from the elements. The weather-stripping material needs to be examined and replaced when it becomes too worn. You may also need to have the tracks and rollers checked and replaced, as they too can wear out or break, which will make your door make excessive noises and may even cause it to get off track or become stuck.
Some Expert Assistance
The best way to avoid all these issues and many more is to have your door serviced on a regular basis by professional technicians with years of experience and a proven track record. Our team at Garage Door Repair Fontana can take care of all your maintenance requirements and ensure that your system sees as few issues as possible. Give us a call if you need any help.