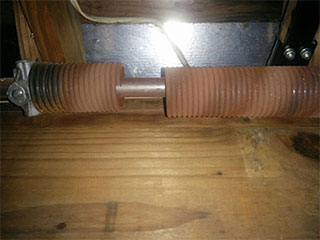 Have you ever tried lifting your garage door yourself? Not too hard, right? Well, that's not a testament of your strength, but rather, of the remarkable capabilities of the system's springs. These units use tension-based force to counterbalance the weight of the panels and make opening and closing the door a relatively easy feat. Whether you have an automatic opener or not the springs are the ones that bear most of the load.
How Garage Door Springs Work
There are two types that are in common use today. The first can be found above the door, installed parallel to its length. This would be the torsion spring, which is wider and more durable, in part due to the fact that it is built to twist and unwind, which also makes it less likely to whip around when it breaks. The second type is the extension springs, which are always installed in a pair, on each side of the door, parallel to the horizontal tracks. These units contract and stretch to lift and lower the door, which makes them more dangerous. That's why they're often attached to safety cables.
The Dangers Of DIY
It's very important that you don't try to repair or adjust garage door springs yourself, as mishandling them can lead to serious injuries. The tension these units are under makes any amateur repairs incredibly risky, as when a spring breaks all the tension stored within its coils is released simultaneously, and it can lacerate standing close enough.
Leave It To Our Team
Our professionals at Garage Door Repair Fontana are always ready to help. Whether you need emergency spring repair services or want an expert to take over your door's maintenance requirements, we're the team for the job. Contact us whenever you need any type of help.
Want more? Let us take care of:

Garage Door Weather Stripping

Garage Door Receiver Repair

Overhead Door Installation

Garage Door Remote Clickers