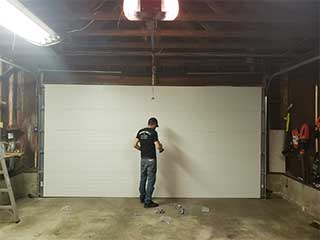 There could be all sorts of reasons why your garage door starts malfunctioning. The opener could have something wrong with it, the springs could have worn past the point of being functional, or there may be a problem with the rollers or the tracks. Whatever the case may be, you can count on our experts to respond quickly and to address the problem in the safest and most effective way. We'll find the best available solution and make sure that it lasts.
Motor Unit Problems
Because your opener is what automates and controls the movement of your door, it's no big surprise that some of its different parts can break down after a while. The trolley carriage can physically break, as can the motor gears, and even the internal circuit board can malfunction in various ways and cause the unit to behave erratically, or to not run at all. Our technicians can troubleshoot the opener and apply an effective solution to whatever the problem may be.
Broken Spring Repair
Because garage door springs are under a lot of tension and stress on a day to day basis, they will eventually break. This can be very dangerous, as they can whip around when they do, and anyone standing in the way could get hurt. Spring replacement can be dangerous too, as loading the new units with tension is an intricate task that requires experience and skill. Let our technicians take care of this for you and avoid making risky mistakes.
Different Hardware Issues
Your door relies on rollers and tracks to move in a smooth and stable pattern, and if these parts degrade or break, the panels could end up getting stuck, or worse. Worn rollers will make a loud of noise, and bent tracks can slowly force the door off or prevent it from opening all the way. Our team can check the status of these components and repair or replace them as needed.
Emergency Repair Services Available
If you're dealing with a problem that merits an urgent response, or you want to schedule a service appointment for some time that's more convenient for you, contact Garage Door Repair Fontana today.
We also offer the following:

Residential Garage Door Repair

Garage Door Cable Replacement

Garage Door Tune Up Services

Belt Drive Garage Door Openers